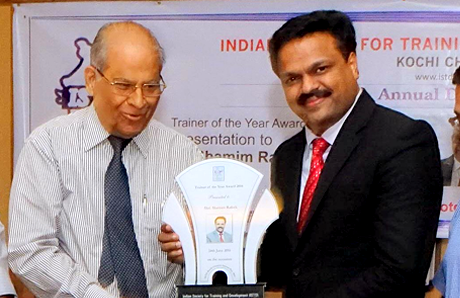 Your search for the Best Corporate Trainer & Business Coach in India will end once you meet Shamim Rafeek.
A Corporate Trainer. Business Coach. Author. Motivational Speaker.
Shamim Rafeek has many achievements to his credit gained over a period of 24 years of experience in Leadership Development, Sales & Marketing, Business Coaching and Corporate Training.
Shamim Rafeek is a Certified Coach who has a successful track record in coaching more than 2000 plus Entrepreneurs across the globe. His Entrepreneurship Coaching Program, "EAGLE" helps hundreds of Entrepreneurs to make their business successful. He broke new ground in experiential training & coaching with Winner in You Training & Coaching Services, his brain child.
His flagship programs "Leadership Dynamo", "Sales Dynamo", "Team Dynamo" and "Goad Pursuit" have transformed the lives of 3,80,000 plus participants the world over. His core area is in helping each individual to increase their output, achieve personal goals and thereby ensure organizational growth. He has addressed more than 1000 forums as the Key Note Speaker and undoubtedly he is one of the Best Keynote Speakers in India.
In fact, simply reading his book on management, "Success through Excellence", launched by the Academy Award winner Padmasree Resul Pookutty, is enough to sow the seeds of success in the minds of the reader. Indian Society for Training & Development (ISTD) honoured Shamim Rafeek with the coveted award- "Best Trainer of the Year". His viral youtube channel Spark Stories - Coffee with Shamim Rafeek inspires millions of people world over. He is the reciepient of "Ente Samrambam Gods Own Brand - Best Entrepreneurship Coach 2018 Award". With 1500 plus brands in his client list, Shamim Rafeek is rated as one of the Best Corporate Trainers & Business Coach in Kerala. 


Over the years, Shamim has coached and trained Executives, Managers, CEOs, Entrepreneurs and Professionals. He is a much sought after Motivational Speaker and has addressed several conferences in India and abroad.